Backcountry Skiing Blog Posts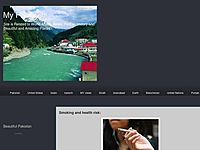 An avalanche (also called a snowslide or snowslip) is a rapid flow of snow down a sloping surface. Avalanches are typically triggered in a starting zone from a mechanical failure in the snowpack (slab avalanche) when the forces on the snow exce...
After a great trip to Loftet the previous day, and a night at local pub "Fjoset" at Lom I didn't plan any hikes on my way back to Oslo. But when white mountains where bathing in the spring sun when driving over "Valdresflya" I couldn't stop my...
Five times I have pushed my self up the steep ascent to Gaustatoppen, and I am sure there will be a sixth time, and many more. The reason for that is not the joy of skiing down one of Gausta's seven famous couloirs, but walking along the airy ridge w...
Mount Kjøvdalstind, that we skied on this trip, seen from Kirketaket It has been two years since I last visited beautiful fjord "Isfjorden" and the wild and snow covered peaks that surrounds it in numbers. Back than we skied Kirketaket, one of...
Every year I head back to this mountain called Høganovi. The ascent is long, but the reward is a great landscape and untouched snow for the descent. There is almost never any people up here, only one or two cross country skiers passing by on their w...
Outside Norways second largest city, Bergen there is a place that would suprise you. A mini-Jotunheimen with lots of snow and numerous opportunities for skiers. Yes, it's suprising as Bergen has a warm climate and is not known for snow and winter act...
Gully called PurkegjeletIendefjell is a mountain at Kvamskogen in Western Norway that I yet had to visit. I have planned to go many times, but the weather has never played along. However when visiting Bergen last weekend I set off with my friends Fro...