Breakfast Items Blog Posts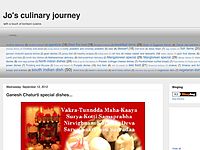 Kerala style Potato stewThis is typical kerala style potato stew which i grew up eating as my mom is from kerala., it's one of my mother's best dishes.As children, we used to spend our summer vacations in one of my uncle's place in calicut,Kerala and...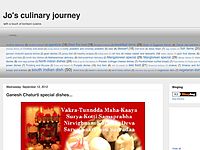 Butter milk Pumpkin Pancake/dosa ( eggless)Pumpkin pancakesMake the most of winter harvest with this warming, seasonal Pancake.Here i have created this colourful, healthy pancake with pumpkin and buttermilk,which really goes well with my date and ra...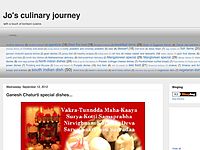 Konkani style Urad-rava dosa Here's a simple, crispy rava/semolina dosa recipe that can be made instantly.This dosa tastes almost like medu vada,no need of fermenting the batter,just grind the soaked black gram dal and prepare this crispy dosa j...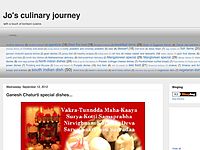 Kadambuttu is a signature dish of kodavas/coorgis.This dish is normally prepared along with coorgi chicken curry or pandi (pork ) curry .You can have it with any other curries as it is prepared with simple rice-rava or idli rava/Rice semolina.Usually...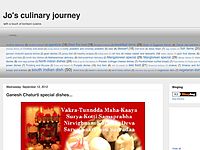 God appo/sweet paddu/...ganesha chaturthi specialGod appo is a very divine konkani dish specially prepared during ganesh chaturthi .We mangaloreans offerGod appo instead of Modak .Therefore this dish is a must on that day.'God" means sweet in konkani...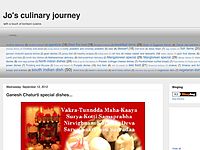 chana upkariUpkari is a dry dish usually stir fried.You can use any type lentils or beans or vegetables to prepare this easy and tasty dish.Normally we konkanis prepare this on Friday's combination with beaten rice /pova chutney or Godu povu(sweet be...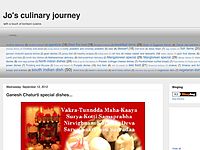 I am here with one more famous parata from Punjab,which is not only available in Punjab but quite famous in Paratey wali galli in Delhi and also in our neighbouring country Pakistan.This parata is stuffed with lamb mince which makes a perfe...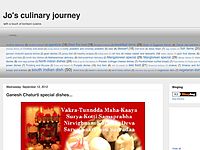 I am here with one more crispy rava dosa.I love this dosa because its very simple and quick to make.This dosa is very popular in south india but of course with different combinations.My version of dosa is simple and worth trying .This is ou...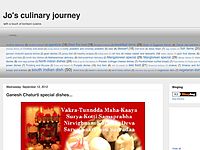 This is another type of " Appo " .My 1st appo was onion appo In which have used onions.But this time i have used oats which makes this more healthy.My kids love Appo/Paddu/Gundu Ponglu So trying something different each time to make i...