Comedy Of Errors Blog Posts
It's Monday morning here in snowy London Towne. Sadly, it's not actually snowing right now, just gently dripping.  The lovely snowman in next door's garden lost his head overnight due to the thaw. Saturday night was absolutely amaz...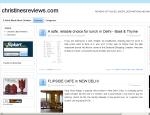 This is going to be one of those gushingly enthusiastic reviews, be warned. When you see an absolutely pitch perfect, drop-dead wonderful production of Shakespeare, with not one foot put wrong at any level, what else can you do but gush ?  Other tha...