Cookie Bars Blog Posts
Happy Fourth of July! We hope you have a great holiday. We are laying low and working on the house (surprised!?). I am planning a faux cookout thanks to my Griddler. To serve as the dessert, I whipped up a … Continue reading →...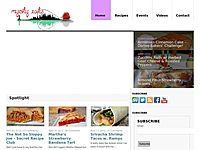 Another Monday — but it's better than most so far this year. For one it's 55 degrees this morning and supposed to get up to 70! Woot! That's pretty exciting and second, it's my first post with The Secret Recipe Club! I...