Corn Ethanol Blog Posts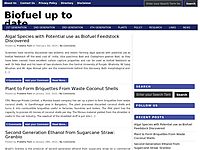 What is bioethanol? Bioethanol refers to the ethanol produced from starch/sugar rich crops. It is used for fuel purposes. Bioethanol Production from Corn and Sugarcane Bioethanol Produced from starch and sugar rich crops such as Corn and Sugarcane ma...
The 30 year subsidy for corn ethanol is over, as Congress has not extended it. Adding to this, imported ethanol from Brazil will no longer face a tariff. Economically, this means that the US ethanol industry will have to compete fair and square to ea...