Decluttering Blog Posts
Entry #2160, April 1, 2013 Every part of your home should standout according to its purpose. Your foyer is the welcoming room that sets the tone for the rest of your home.  If your foyer is dark and unwelcoming there are ways to bring in color and l...
Entry #2122, February 19, 2013 The front entry is one of the vital areas at home. Not only that it is the first spot where visitors come to see but also serves as a storage counter. For instance, the front entry can cater your shoes, umbrellas, mails...
Entry #2033, January 22, 2012 Your front entry at home provides the welcome scenery for guests.  When this area is attractive, pretty sure that you will have a great first impression. This should make your guests feel excited and look forward for mo...
Entry #2010, January 14, 2012 This week on The Decluttered Room Radio Show we are talking about your pets and getting organized with them, and all of their stuff! Tomorrow, Tuesday, January 15th at 7:00pm EST, I host a special Prime Time special! In...
Well...this kind of thing could only happen to me. I was coming in the door from church last night and Billy met me at the door just like he always does, smiling from ear to ear....isn't that sweet? :-) And I had just come in the door and...
Entry #1904, December 4, 2012 Happy New Year! Are you ready for a more organized home office this season? This Thursday, Jan. 3rd, join me on Uncle Bob's Storage – The Decluttered Home Radio Show. In December of 2012 I started to contribu...
Entry #1904, December 4, 2012 I'm so excited, I recently started contributing to Uncle Bob's Storage's Blog – 'Get Stor-ganized' and they have been gracious enough to ask me to host their Blog Talk Radio show ̵...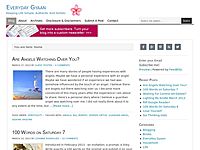 I thought it was me. Turns out it's my desk. Is your desk destroying your productivity too? I'm supposed to be writing – but I'm not doing that. I'm surfing the net and staring at various inane sites. Yes, staring –...
Entry #1435, August 3, 2012 We all love our high tech gadgets, but who wants to look at them all of the time? The devices, appliances and cables can make even the neatest home feel cluttered, but we can't live without our time-saving tools. It's...
Entry #1178, May 15, 2012 No matter how hard you try, you never seem able to stop accumulating excess amounts of very special possessions. As the adage implies, it all may be a treasure to you, but junk to others. What happens to this "junkR...