Delicious Recipes Blog Posts
Entry #1389, July 17, 2012 Summertime is the perfect time to grill outside and create recipes that are easy but full of flavor. Summer is especially great for sandwiches that taste good and can make your dull routine recipes get revamped. Put an end...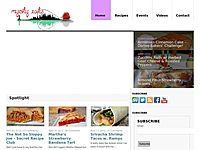 Well I just have to say that this has been the busiest month that I can recall…I think I'm finally able to settle down a little this week and get back to what I love doing! Cooking & chatting with all of you! I couldn't think of...