Discount Prices Blog Posts
Nobody has to tell you that things are going so great in the economy ri ...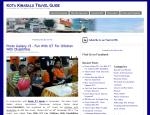 Here's another chance for you to upgrade your PC and tech-gadgets at discount prices. The Sabah Computer Society (Persatuan Komputer Sabah) is organising the ICT Fiesta, Sabah PC Fair 2011 on 25-27 November 2011 at the Likas Indoor Stadium. Organiz...