Earring Holder Blog Posts
Hi guys! This is another quick post. OK! So, do you have a lot of earrings and have ran out of storage? Well, I am here to solve that little problem! "But how ?" you might ask .. Well all you need are two very simple things. You will Need : Tu...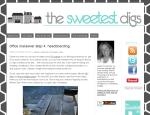 Last weekend Dan-the-man were in Montreal visiting some fam, when we came across a moving sale. If you know me at all, you know I couldn't help but pop in to see the goods. There were some lovely little trinkets and antique furniture, but it wa...