English Story Blog Posts
Dear English Learner Please find below the first (and I hope not the last!) story by a group of English language learners. I would like to thank Chandra, M. Hakim, Marisha, Icha, Charos and Yasemin for their wonderful contributions to make this firs...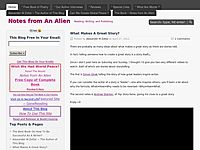 For some people, writing challenges are something they can't refuse. I'm not one of those people but I did create one :-) In June of 2011, I wrote the post, Writing Challenge ~ Use The 1200 Most Common Words To Write A Story… Then, in...