Fine Cooking Magazine Blog Posts
Cucumbers make me think of my father. To me, they represent his alter ego. In the same way a camera goes with Peter Parker and a pen and pad make up Clark Kent's non-super hero persona, cucumbers and tomatoes are who my dad is when he's home.You see,...
When I started dating, apparently someone forgot to hand me the manual. Somewhere in its pages are guidelines regarding learning the foods that yon significant other likes.Hubby, for instance, has done everything but hand-walk me into his mother's ki...
I play question games with Hubby (and anyone else that's willing). When we play, I ask random questions. Questions like:'If you were going to be locked in an underground shelter for 25 years and were told to just bring one book, one DVD and one CD (s...
I stood in the 94-degree heat with a trickle of sweat starting to work its way down my back. In front of me was a big black box. My favorite cooking appliance by far, but at the moment, not my friend.Most people choose to just grill in the summer, wa...
Memories of growing up. We all have them, don't we. As I attempt to raise our daughter without going insane, I have to admit that more than once, while thinking back on some experience from my youth, I wonder how my mom did it without going over the...
These squash have been sitting on my counter for several days. I knew they were destined to be roasted, but until they were, they served another purpose.Dudette torture. In some ways I am so much not a good mommy. It's not entirely my fault though. S...
I have an exercise for us to do together. Pull out a piece of paper and list five things that you're either afraid of or don't like. Here's my list.1. I am afraid of heights.2. I am afraid of and don't like spiders.3. I do not like the singing group...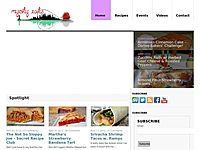 This past weekend my sister's fiance decided to throw her a surprise birthday party. She was clueless! My mom and I were trying to think of ways to keep her out of her house all day. Thank goodness we're both engaged, we went and looked a...