Fraggle Rock Blog Posts
Here is the latest weekly recap for Geek Alabama!  Some of the most popular posts from last week included the Noble Street Festival, Cheaha Challenge, Fraggle Rock's 30th Anniversary, Phil Robertson coming to Gadsden, Saying no to fracking in...
I can't believe it's been 30 years since the Jim Henson Show Fraggle Rock premiered.  Sure, some people wonders why a puppet show aimed for kids has adult fans.  But, believe me, there are fans of Fraggle Rock that have grown up...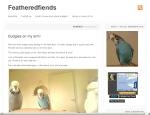 The fiends got a replacement playground a couple of days ago. The previous wooden one had became all warped and discoloured so I binned it a while back. This one is the same. I do wonder if they thought I hid the other one for 6 months and then just...