Green Decor Blog Posts
Entry #2123, February 19, 2013 Most of us can't wait to bring spring into our homes. March is coming with the beacon of lots of natural freshness and chances of outdoor hangouts, as it is a little bit chilly, rainy, but not snowy month. If you...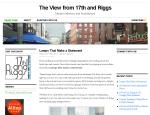 Despite a complete lack of a snowfall, it's been a long winter with a series of craziness happening in other categories.  I'll spare you the details but perhaps that's why I'm feeling so drawn to the refreshing colors of spri...