Hindu Temple Architecture Blog Posts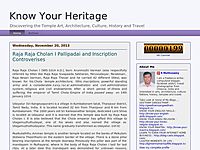 Mahadevar Koil, EdaiyarpakkamVaralaru.comApsidal shape back viewMahadevar Temple is located in Edayarpakkam village, Sriperumbudur taluk, Kanchipuram district, Tamil Nadu, India PIN 631553. The temple is located 22 km towards North from dis...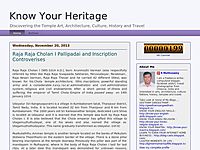 Sivagiri (சிவகிரி) Sri Mahadevar (ஸ்ரீ மகாதேவர்) Rock cut cave temple is located in Alwarkovil (ஆழ்வார்கோவில்) village, Kalkulam (கல்குளம்) taluk, Kanyakumari district, T...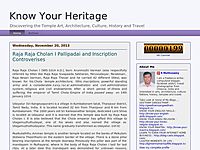 Picture Courtesy: RK Lakshmi (Facebook)Kurathiyarai (குறத்தியறை) Rock cut cave temple is located in Thovalai (தோவாளை) taluk of Kanyakumari district, Tamil Nadu, India PIN 629851 and the village is formin...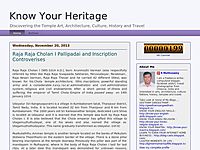 Vizhinjam (വിഴിഞ്ഞം) rock cut cave is located in Vizhinjam village, Athiyanoor (അതിയന്നൂർ) taluk in Thiruvananthapuram (തിരുവനന്തപുരം) district, Kerala State, India PIN 695521. T...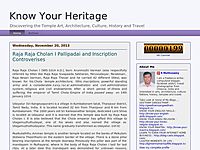 Facade of Somanathesvara Temple, MelpadiMelpadi (மேல்பாடி), a quaint village (Latitude 13.04538 and 79.25931 Longitude) with a salubrious climate and picturesque landscape of paddy field, is on the Tiruvalam – Poigai road and lo...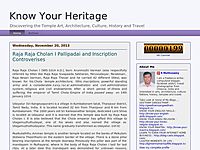 Tiruvallam Vilvanaeeswarar Temple FacadeAadi Perukku (18th Day of Tamil month Aadi - (mid-July to mid-August)) is an important day for Hindus as well as Ponniyin Selvan Group (Facebook Group). The group organized a meeting on 08th August 2015 from 03...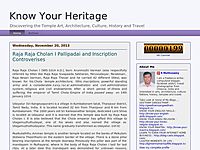 Facades of Kalugasalamurthy & Kutralanathawami TemplesKalugasalamurthy Entrance Pillared HallKalugasalamurthy rock cut cave temple excavated on the south-eastern slope of the low rising Araimalai hillock. The present rock cut cave temple has tran...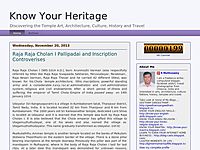 @ Kazhugumalai Photo courtesy: Ms Ramamani Jeyaraman@ Kazhugumalai Photo courtesy: Kishore Mahadevan@ Kazhugumalai Vettuvankoil Photo courtesy: Kishore MahadevanFor the last five years, Tamil Heritage Trust (THT), an organization of heritage lovers...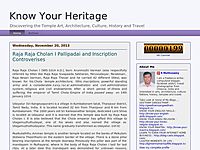 Vijayalaya Choleeswaram, Narthamalai, Pudukkottai District Rebuilt by Vijayalaya CholaMuvar Koil, Pudukkottai District, Paranthaka IISrinivasanallur, Koraganathar Temple, Trichy District Paranthaka IDarasuram Airavatesvara (Raja Rajeswaram)...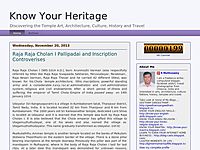 Temple VimanamKirtimukha at the Nasika of Meenakshi Sundareswarar Temple Tower MaduraiKirtimukha above a Hindu temple entrance in Kathmandu, Nepal (Wikipedia)Kirtimukha at Kasivisvesvara Temple at Lakkundi, Gadag district, Karnataka, India (Wikipedia...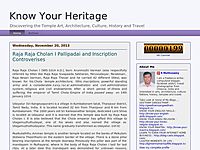 KarakkoyilKarakkoyil - Amirthakadeswarar Temple, Malakadambur (early name Tirukkadambur) - 608 304, Cuddalore district, Tamil Nadu is known by the name Karakkoil. From Tamil literary sources we learn that there are nine categories of temple structure...