Lp Skin Therapy Blog Posts
LP Skin Therapy is a skincare range created by Dr Linda Papadopoulos PhD. Dr Papadopoulos is a very well known psychologist but what I suspect is less well known is that she is especially knowledgeable about the field of psychodermatology. I'd never...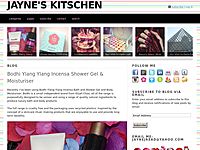 So, whilst I'm away, I've got a few guest blogs to share with you instead. Today, the fabulous Thom (a man!) from Manface Blog talks about products to help us destress! I, like so many people out there, am bang smack in the middle of my e...