Multi-site Blog Posts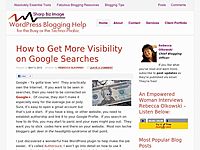 The other day a client of mine called because she wanted to unload a WordPress site that she had purchased from some Internet Marketing gurus and transfer her posts to another site that I set up for her. I told her, no problem. All we had to do is go...
I once went on a vocations weekend to work out whether I was called to be a vicar or not. Turns out that I was. Anyway, on this vocation weekend, there were sessions aimed at getting our minds to think theologically in a practical way. One of the ses...