Peacock Design Blog Posts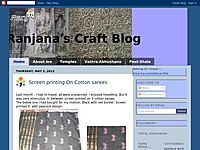 It had been a year that I could not work on screen printing. I have many beautiful designs of screen. Recently I had designed a screen printing on a saree, which I had shared in the post : Screen printing on saree after years.Yesterday worked o...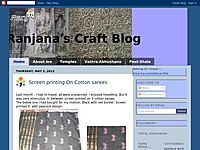 It has been quite sometimes that I had planned to share peacock designs. . The perfect blend of enchanting colors o the peacock feather, and the pattern have made it used in many forms of arts and crafts.Image courtesy- Wikipedia I had des...
Usually, Hindu religious icons are depictedin Tanjore Paintings- a traditional art form of India.In this painting, I have chosen to portray a glorious peacock -an all time favorite Indian motif...In fact,You can hardly find an Indian...
Here is an ornate Kundan paintingdone on a 12"X 12" mirror.I chose traditional peacock motifsand surrounded them with traditional Kundan jewel motifs...Uncut stones and pearls,gold liners and transparent glass colors go into making thi...
After a long time ,I am sharing a simple and colorfulMadhubani Painting depicting the all time favorite motifin various Indian arts and crafts - The Peacock or the Mayoora...these multicolored peacocks capture the essence of the true...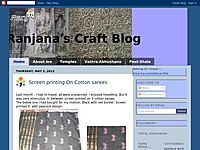 For a long time I haven't shared anything about my collections. Again back to boast about my collections of Kumkuma Bharanis :-). About some Kumkuma Bharani I have already shared in the previous posts: My collection of Kumkuma Baharanis&nb...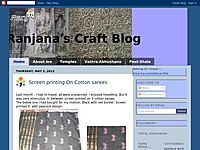 I've shared about my collection of Kumkuma Bharanis( Container to store Vermilion) in previous posts:My collection of Kumkuma BaharanisSome more Kumkuma BharanisPaper Mache Kumkuma BharanisOne of my friends, gave me a Kumkuma Bharani-...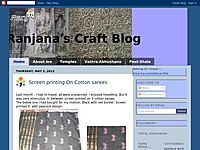 Last month , I had to travel, all were unplanned. I enjoyed travelling. But it was very strenuous .In between screen printed on 3 cotton sarees.The below one I had bought for my mother; Black with red border. Screen printed it with peacock...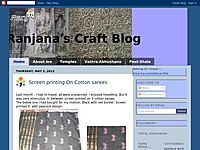 On this saree I've used Glitter painting. Attached a off Gold color lace on the border, used peacock shaped kundans and Peacock Design on the Pallu.Closer view of the border:Peacock shaped Kundan and extended the peacock feather design with Blue and...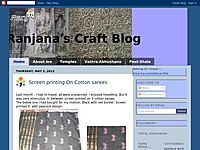 This is a plain black saree with Golden Yellow border. The owner of this saree likes very simple designs. So printed this with Peacock and Paisley designs , in Green and Gold color. Attached Green and red kundansPrinted the Pallu with small...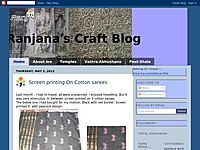 I've used screen printing to make over ,many old sarees. This is a new silk saree, on which I used screen printing.This is my sister's saree. When I saw this saree, I liked it very much . Some creative idea flashed in my mind.When I told her about my...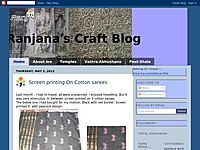 Everyone was waiting for her arrival. My son could not wait, he went to airport to receive her . He was the one who was missing her a lot. We all too. She arrived , brought lots of happiness, joy and lots of gifts to everyone. How fas...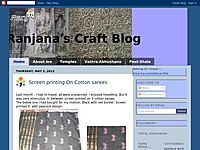 I bought a cotton Saree for my mother in law, as she always likes to wear cotton sarees, when she is at home. It is a hand loom Saree in Maroon color with copper color border and pallu. I had some left over paint, so though...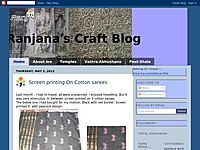 There is nothing much to write about this. The client had given, plain red silk saree. Its easy to design plain saree. The client wanted peacock or paisley design. I have the peacock designs in different sizes. So printed small motifs as border and b...