Pissed Off Blog Posts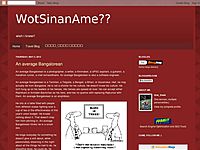 All through my life, I've been a very misunderstood soul. I do things that enrage people or disgust them or make them go, "Why is she doing this? Is she crazy?". So starting today, I want to end it. I am going to explain why I do what I do. I don't c...
Well, the last couple of weeks has seen the return of my migraines. However, it's a new type of migraine. I've been complaining of pains in the front of my head, that spread down one side of my face, hurting behind my eye, ear and jaw. Mum complained...
It seems over half the people in Exeter turned out to march down the High Street today. Teachers, NHS staff and many others marched down. However, to me, all this protesting is silly. To me, everyone just wants to work less time, for more money. I'm...
Oh yes. The bitch is here to stay. I ended collapsing in the middle of Exeter on Tuesday evening. It came on so suddenly, and my legs just gave way. I ended up in Starbucks with a hot chocolate, while the nice lady called my mum in to pick me up. Tot...
Urgh. It's been going on since last Tuesday and it doesn't seem to be shifting. I didn't do any of my homework over the college half-term, and I'm finding it really hard to focus on my college work in general. I feel like crap too. Well, I suppose it...
Well, I was minding my own business, getting up to the bad things I do on Facebook, when I realised, I'm not going to be able to kep all this up. Not my blog I mean. I figured, that, every word of mine's being watched, being judged. THAT'S ALL YOU EV...