Preschool Activities Blog Posts
With the weather warming up there is no better place to be than outside playing. On this day, I had actually made homemade bubbles with my class at school, to which they had a blast. I decided I'd bring the project home and let Maddie give it a try.
    We didn't have much of a Winter here in New York City, which is really dragging me down. I was really looking forward to taking my son sledding for the first time. He loved building snowmen last year – I didn't get to...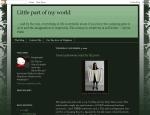 I've been very busy lately. The reality of life has shaken me off a little bit that blogging has to take the back seat for a moment. But now, I'm back!. So, what I've been up to now? Teaching my 4 yr old son how to write. He's going to kindergarten p...