Reasonable Faith Blog Posts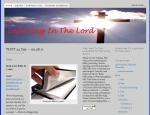 He was about 30 when, walking along the shore, he listened to the liquid thunder of sea and surf. Solomon's words in Ecclesiastes 1:2 described his mood—Nothing makes sense! Everything is nonsense. I have seen it all—nothing makes sense!
Today, I've been thinking about faith. And today I've decided to write a post on faith, and hopefully you will tell me what you think about it. You see, when people think of faith, they attach certain opinions to it, such as… ItR...