Recipes For Chicken Blog Posts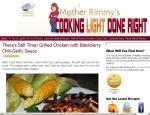 Eating lean in-between holiday gatherings is a challenge, so it's time to kick things up a notch. I'm a chef's assistant for our local PPC cooking classes. There's a saying amongst chefs that we eat with our eyes first. Lately...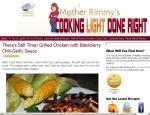 You might have noticed a few changes here at Mother Rimmy's. Cory from Zesty Blog Consulting gave this blog a fresh coat of paint. Cory's creative eye was just what we needed to spruce things up after four years of serving up healthy re...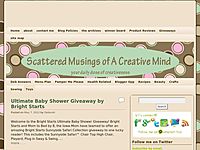 A quick easy healthy lunch Lemon Pepper Chicken with Sliced Apples. I honestly never imagined myself caramelizing onions and browning chicken, like they were fried in oil without using oil. Part of my weight lost journey and my 90 day challenge, is e...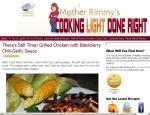 When I see whole chickens on sale at the market, I pile them into my cart. For less than $5, I can make a week's worth of meals for the two of us with one chicken, then freeze the remains for a pot of chicken broth when time permits. Roasted...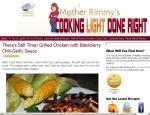 On Monday, as we remember those who have died in service to our country, at our barbecue we'll be serving up a few lower calorie recipes to share with family and friends like this refreshing Asian Kale salad. Asian Kale SaladContinue reading: H...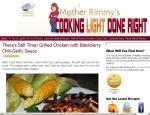 For those of us watching our weight, cooking up a juicy burger can definitely be a challenge. Keeping extra lean cuts of meat from becoming dry and chewy after you've cooked them is no easy task. Slathering an abundance of condiments on your bu...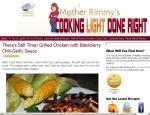 There is no way I want to cook on a Monday night if I can avoid it. Like many people, Mondays are difficult for me – it's not often that I make a significant dent in my to-do list over the weekend. In fact, it's not unusual to see t...