Round Brush Blog Posts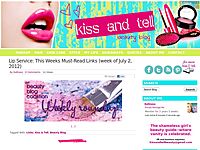 Volume is the name of the game, and the name of the game is volume. As you may have noticed I'm on a bit of a anti-flat hair tirade as of late. My most recent hair motto: throw away the flat iron and ditch the hair brush. Some of you might think I'v...
Hi Guys ! T.G.I.F!!! This one is just for the ladies :-) If you are one of those girls who visit Beauty Supply stores quite regularly, i am sure you would have seen various types of brushes. There are round ones , square ones and even rectangular one...