Sangam Period Blog Posts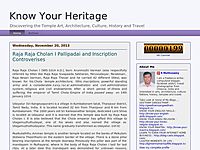 Poompuhar Art Gallery - WikipediaPoompuhar Beach - WikipediaKaveripoompattinam (காவிரிப்பூம்பட்டிணம்), also called various names from ancient times, Champathy (சம்பாதி) (as cited in Manimekal...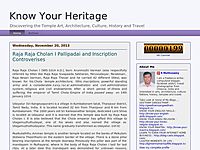 Carvings on Temple Wall PC Exotic India ArtDance was the resplendent art form in ancient Tamil Country. Dancing played an indispensable role in the lives of the ancient Tamil Sangam society. In ancient times the dance was known as Koothu (கூ...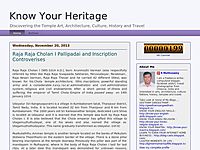 Mrs. Vaidhehi Herbert from Hawai, USAMrs. Vaidhehi Herbert with Mr.HerbertVaidhehi Herbert, a Tamil scholar from Thoothukudi (Tuticorin) and at present she lives in Hawai, USA. She has translated 12 out of 18 anthologies of Sangam literat...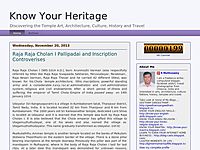 Here is the slideshow of 99 Flowers with pictures mentioned in Tamil Literature on 100 BCE-100 CE, with their botanical name 99 Tamil Flowers from Palaniappan Vairam SarathyKurincippattu (Tamil: குறிஞ்சிப்பாட்...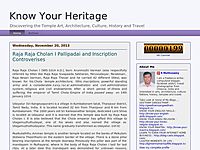 The Prehistoric period mark the time when the first civilization or humans evolved. There are controversies on the time of origin of the Prehistoric period in India and the historians find it as a healthy point of discussion about the Prehistoric per...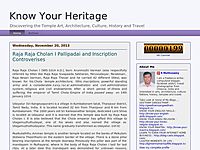 Karthikai Deepam or Karthikai Vilakeedu in Tamil (கார்த்திகைவிளக்கீடு) is the festival celebrated in South India in general and Tamil Nadu in specific since from ancient times on the full moon day of the Karthig...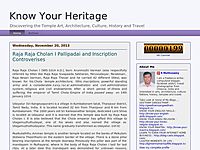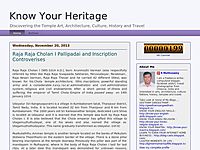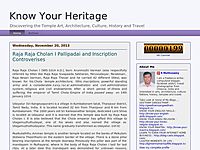 The Pallava sea-port Mamallapuram is known for its cave temples, rock-cut monolithic rathas, open-air bas-relief and free standing structural temple. Archaeological excavations at Saluvankuppam village (also known as Thiruvizhchil) near to UNESCO mon...