Soska Blog Posts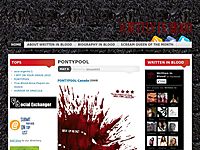 Synopsis: Alysa King plays Kylie, a teen who is coerced into a sexual encounter at a party by a popular boy (Aaron Chartrand), whose friends send video of it across social media. Her self-confidence in shreds, and her reputation in tatters, she is i...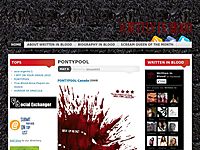 Okay, I posted the poll for Scream Queen of the Year on Dec. 7. The poll will be open for a few more days so may I remind you to , folks. Here's how the voting is going so far: … Continue reading →...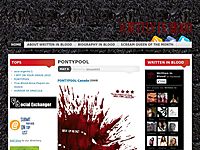 This is a first here at Written in Blood. I would like for you, my readers, followers and subscribers, to pick from this years crop of Scream Queens the one that you think deserves the title of Written in Blood … Continue reading →...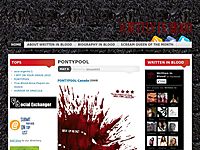 Filed under: Scream Queens Tagged: A. J. Cook, amber heard, April, Art, Arts, Blair Witch Project, Blog, Blogging, blogs, Canada, Carolyn Jones, Chelan Simmons, Christina Ricci, Danai Gurira, December, February, Film, Filmmaking, Gillian Anderson, Ha...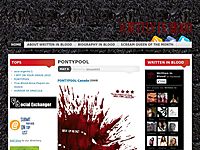 SEE NO EVIL 2-United States-90 Mins. 2014 Directed by Jen Soska and Sylvia Soska Written by Nathan Brookes and Bobby Lee Darby Let's face it-when we see the WWE Studios logo appear at the beginning of a horror film (or … Continue reading...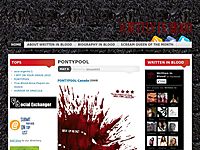 OCULUS-United States-104 Mins. 2013 Directed by Mike Flanagan Screenplay by Mike Flanagan and Jeff Howard and based on their short screenplay I'm not sure if any of you are aware of this but sometimes, with certain movies, I have difficulty ...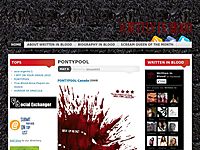 When it comes time to choose a Scream Queen the tried and true tradition here at Written in Blood is to choose a beauty whose fame derives from their work in front of the camera. However, for the month of May I've decided to grab tradition and...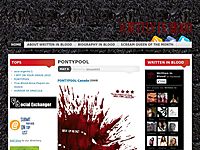 From American Mary and featuring Katharine Isabelle as Mary Mason and David Lovgren as Dr. Grant: I quit med school today, that shouldn't come as a surprise to you. I'm changing specialties Dr. Grant. Have you ever heard of body modificat...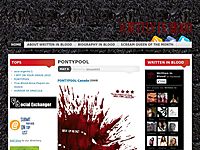 DEAD HOOKER IN A TRUNK-CANADA-2009 Written and Directed by Jen and Sylvia Soska Yeah, okay so being a movie reviewer means that I'm always looking for new and different stuff to watch, to write about and to generally express my crazy fucked up...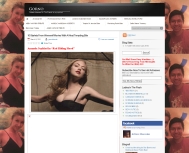 With the impending worldwide DVD release of "Dead Hooker In A Trunk" on 31st Jan, RIKKI GAGNE, one of the stars of the audacious flick is deserving of the plaudits. RIKKI is absorbing from the start as Junkie, the rock singer who together...