Spiritual Path Blog Posts
Katie had not been in a relationship in ten years, and she was scared to death. In her previous relationship, she had lost herself entirely then felt devastated when her boyfriend of three years left her for another woman. After … Continue read...
It's started!!! We can proudly announce that we established the date of our first workshop in Cluj-Napoca for the 7th of January, and not only that we are fully booked, but we have another group of people for the 8th, in the same weekend. The...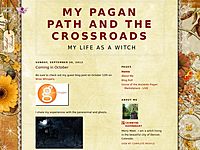 2004This is when it all began, at least as far as my active studying is concerned. I was visiting a big box bookstore in a local mall and I was perusing the new age section. I always found myself drawn to that section of any bookstore and library.