Truly Rich Club Blog Posts
I came through a similar post on the Internet recently, and according to that post, what you should prioritize is that "tool" which will give you self-fulfillment, lead to your purpose, and answer your pursuit of happiness.Simply put, if you fin...
Hi there! I just complied the Truly Rich Principles from Bro. Bo Sanchez' 8 Secrets of The Truly Rich. This a collection of words of wisdom from that book that I wanted to share with you. Scroll down and enjoy reading! Blame robs you of your po...
I just got home from our 5-day midyear conference at work. The first two days were all about business held at a beautiful hotel in Ortigas and then we flew all the way to Bohol, stayed at a luxurious hotel/resort for R & R starting Wedn...
Yes, you have read that right.With the PSEi being bullish these past weeks and a lot of people are earning huge, everyone seems to want to get in and learn how to invest directly in the stock market.I have workmates and Facebook friends asking me how...
Have you heard of Bo Sanchez' Truly Rich Club?I have been a member since February 2013 and I believe that it was one of the best decisions I have ever made.Why?Because it was true to its word that I will be financially abundant and spiritually wealth...
http://bangkokbusinessbrief.com/wp-content/uploads/2012/08/66.jpgLast night, my counterpart (workmate) sponsored a medical and non-medical lectures for our dear doctors. The topic of the non-medical was Stock Market Investment -- one of my...
http://www.healthandwealthover40.com/wp-content/uploads/2014/06/emotionsmotivation-650x350.jpgAs my mentor said, every object triggers an emotion in you. He calls this "emotional association." For a lot of people, the emotional association of money i...
http://i2.wp.com/www.christovanzyl.com/blog/wp-content/uploads/2011/12/beliefs.jpg?resize=400%2C266 "Everything I need comes to me." This is my wealth belief. This is a belief that will actually bring blessings and abundance int...
http://www.actioncoach.com/siteFiles/photos/articles/Are_You_Committed_To_Succeeding.jpgArnold Glasow said, "Success isn't a result of spontaneous combustion. You must set yourself on fire."Are you on fire?There are two kinds of people who are readin...
I came across a Facebook post that says, " The best time to invest was yesterday; the next best time to invest is TODAY."Have you started investing? Or the better question to ask is, have you made that decision to finally start investing?As 2014 come...
Regular readers of my blog know that I am a Bo Sanchez fan and a regular Feast attendee. And since our goal at the Truly Rich Club is not only to gain financial abundance but to grow spiritually as well, I am taking this opportunity to share the less...
As most people know, I have been a member of the Truly Rich Club and I am a big fan of Bo Sanchez, a best-selling author, entrepreneur, preacher and lay minister in the Philippines. He is known as the "Preacher in Blue Jeans." Last January 8, I...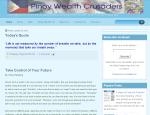 Hello to YOU! Last year, I joined the TrulyRichClub. It was one of the best decisions of my life. Founded by Bo Sanchez, its purpose is to "help good people become rich". Because of the guidance I get from the Club, I'm now investing...