Urban Real Estate Blog Posts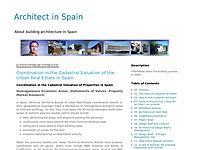 Scope of the Different Methods for the Valuation of Properties in Spain (I)R. D. 1020/1993 and R. D. 1492/2011The primary purpose of the Spanish Royal Decree 1020/1993, about Valuation Rules and Value Frame for Land and Construction, is the determina...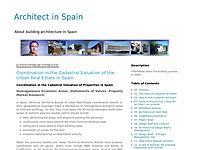 Coordination in the Cadastral Valuation of Properties in SpainHomogeneous Economic Areas. Statements of Values. Property Market Research.In Spain, Technical Territorial Boards of Urban Real Estate Coordination should, in their geographical coverage,...