Vedged Out Blog Posts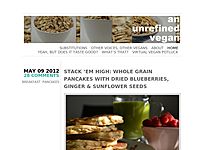 It's time to sign-up for the May 11 Potluck! Head over to the Virtual Vegan Potluck website where the sign-up form is now available – and then dust off your cookbooks, unearth the pots and pans and start cooking!  I'm pleased once...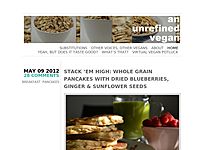 Kel and I are back home after a lazy week in Florida where I gave myself permission to break most of my eating and exercise, um, guidelines.  I ate what I wanted, when I wanted and in whatever quantity appealed.  My pace never broke the stroll barr...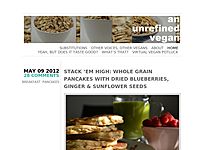 Not only survived – thrived.  From January 7 through January 13, Kel and I joined Somer and lots of other folks in the first Green Smoothie Challenge of 2013.  This was a positive, healthy and delicious way to kick off the new year.  The har...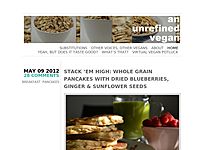 If you had to pick the ultimate comfort food, what would it be?  Pot pie?  A spicy curry?  Macaroni and cheese?  Or maybe hot cocoa (hot cocoa sounds more comforting than hot chocolate) or a warm brownie topped with ice cream?  Winter is just ar...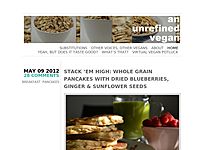 Wishing you all a warm, convivial, cruelty-free and delicious Thanksgiving.  I'm thankful to be spending it with my life partner and my dear friend Somer and her family and friends.  Exactly what celebrating Thanksgiving is all about. One yea...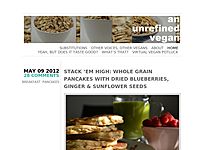 I'm like the Princess in the Princess and the Pea.  It doesn't matter how many layers of goodness you have covering up that tiny pea.  I will find it.  I don't want peas baked into pot pie, hanging about in my vegetable coconut k...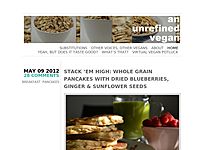 Hold on, hold on – I'll get to dessert. I had a big date last week.  My stomach is still kinda all in butterflies about it.  A rendezvous with my Utah bestie had been postponed a couple of times so this was a big deal.    Sure, weR...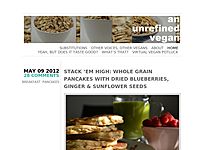 See that beautiful (and yummy) cupcake up there?  Sure, I made it and all, but I can't take credit for it.  That would belong to the creative minds behind The Bear & The Blackberry.  In less than 24 hours after reading their recipe for M...