Virender Sehwag Blog Posts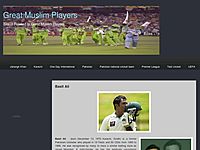 Umar Gul (born 14 April 1984) is a Pakistani right arm fast medium bowler in cricket who has played Test matches, One Day Internationals and Twenty20 Internationals for the Pakistani cricket team.[1][2] He has gained fame as one of the most su...
The Boxing day test match between India and Australia which started yesterday the 26th of Dec 2011 in Melbourne has already had its share of news and controversies in just two days. After a couple of controversial decisions against Australia for Mi...
Virender Sehwag Breaks Sachin's Record of 200 Runs. This has been the headlines all over the web and newpapers earlier this month.... Virender Sehwag scores a world record 219 runs in an ODI against West Indies in Indore on Dec 8th 2011...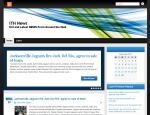 WASHINGTON — Though Wednesday marked the 70th anniversary of the Japanese attack on Pearl Harbor, speeches by a series of U.S. presidential candidates at t...
Virender Sehwag, who has often spoken about Tendulkar// // being his role model, and imitated his shot-making early in his career, smashed a one-day record 219 to help India amass a record 418 for five – their highest total in ODIs – duri...
Starting a new series of pictures dedicated to cricketers who walk the ramp for fashion shows, for photo shoots and promotional events... Here are a collection of pictures that show Indian cricketers in fashion shows and photoshoots... walking down...
Four Indian cricketers, including batting maestro Sachin Tendulkar and 1983 World Cup-winning captain Kapil Dev, were named in the Greatest All Time Test XI chosen in an online poll. Sachin Tendulkar and Virender Sehwag - Two current cric...
During the World Cup Cricket 2011, Virender Sehwag was seen with his cutie pie son Aryavir many a times... probably this was one of the reasons of Sehwag's success and India's win in the World Cup :D Here are a few cute pictures of Aryavir with his...
Our president Pratibha Patil hosted a Tea party at Raj Bhavan in Mumbai the day after India won the World Cup beating Sri Lanka to lift the ICC World Cup 2011 trophy. Our Indian players had an amazing time meeting the president and having an awesome...
India has won the ICC World Cup 2011.... I'm sure each one of you would've read this news umpteen number of times.. but the feeling is quite overwhelming and its yet to sink in for quite a few of us.. Check out the World Cup celebrations in this set...
Winning the World Cup is always special and especially after a span of 28 years... and when Sachin Tendulkar is playing in his potentially last World Cup... As I bring out a series of posts consisting of India's World Cup victory in pictures, this p...
India became the World champions in ODI cricket after beating Sri Lanka by 6 wickets in Mumbai's Wankhede Stadium on 2nd April, 2011. India had won cricket's World Cup for the second time after the 1983 triump by Kapil Dev's Indian team in West Ind...
Hurrayyyyy... We did it! We are the World Champions... India won the World Cup for the second time after beating Sri Lanka in the finals held at Mumbai... What a proud moment for all of us! Savoring all those lovely moments of victory and celebratio...
Indian cricketer Virender Sehwag is one batsman who looks to pulverize the bowling attacks in any track.... One shot that is typical of Sehwag to play in most of the matches is his "Uppercut shot" to six of the fast bowlers.. Presenting Sehwag's gam...